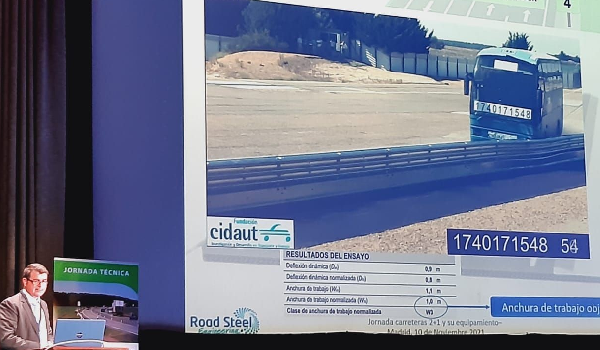 12 noviembre 2021
Road Steel participates in the technical conference on "2 + 1" ROADS promoted by the Spanish Technical Association of Roads (ATC)
---
On November 10, Road Steel Engineering participated in the Technical Conference on "2 + 1" ROADS promoted by the Spanish Technical Association of Roads (ATC) Asociación Técnica de Carreteras.
Our Engineering Director Diego Santiago Gonzalez presented a specific vehicle restraint system solution for this new typology of "2 + 1" highways, as well as its effect on road safety.
"2 + 1" roads have unique requirements: two-way traffic, risk of serious accidents, need to protect motorcyclists… These are the requirements that must be addressed with specific technical solutions.
From Road Steel, in addition, asphalt foundation has been taken into account, taking especial care of its integrity after impact and ensuring that no external contribution of material is necessary, with a quick and easy installation.